The ability of our employees to get the job done safely and in a timely fashion with quality workmanship is what has transformed Mott Electric as a key player in the electrical industry in this region and beyond.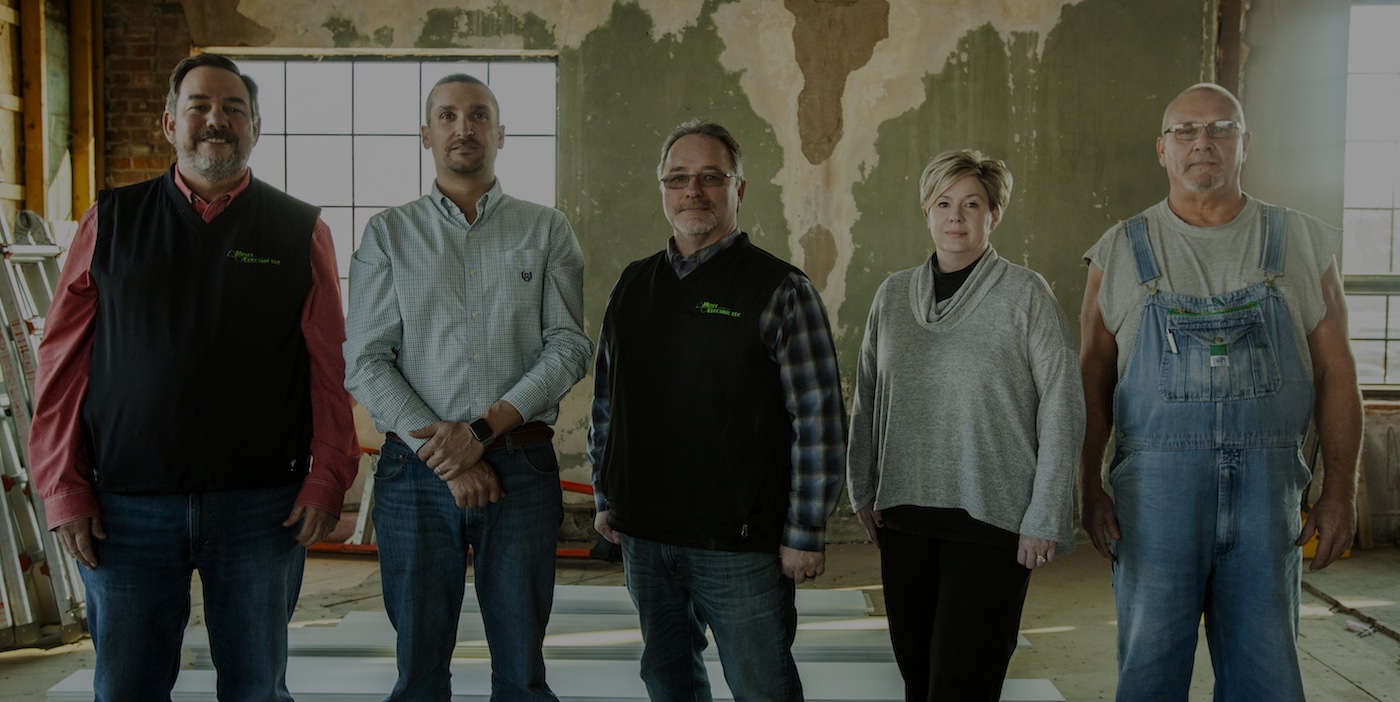 The ability of our employees to get the job done safely and in a timely fashion with quality workmanship is what has transformed Mott Electric as a key player in the electrical industry in this region and beyond.
Our Mission

Mott Electric was established in 1999 by Robert Mott. The company has enjoyed a steady growth since that time. It has been the company's goal from its inception to bring value, safety, integrity and expertise to the electrical field.
We maintain a close working relationship with area contractors, engineering firms, barge companies, architects as well as local businesses and principalities. 
Mott Electric is proud of our educated and committed staff who have positioned themselves to be leaders in all facets of electrical installations and repairs. Our staff is key to our "safety first" culture. Each team member is committed to providing a safe working environment for their coworkers and the community they serve. 
Through innovation and incentive training and education, Mott Electric offers a workforce that is a standard above for customers who expect excellence.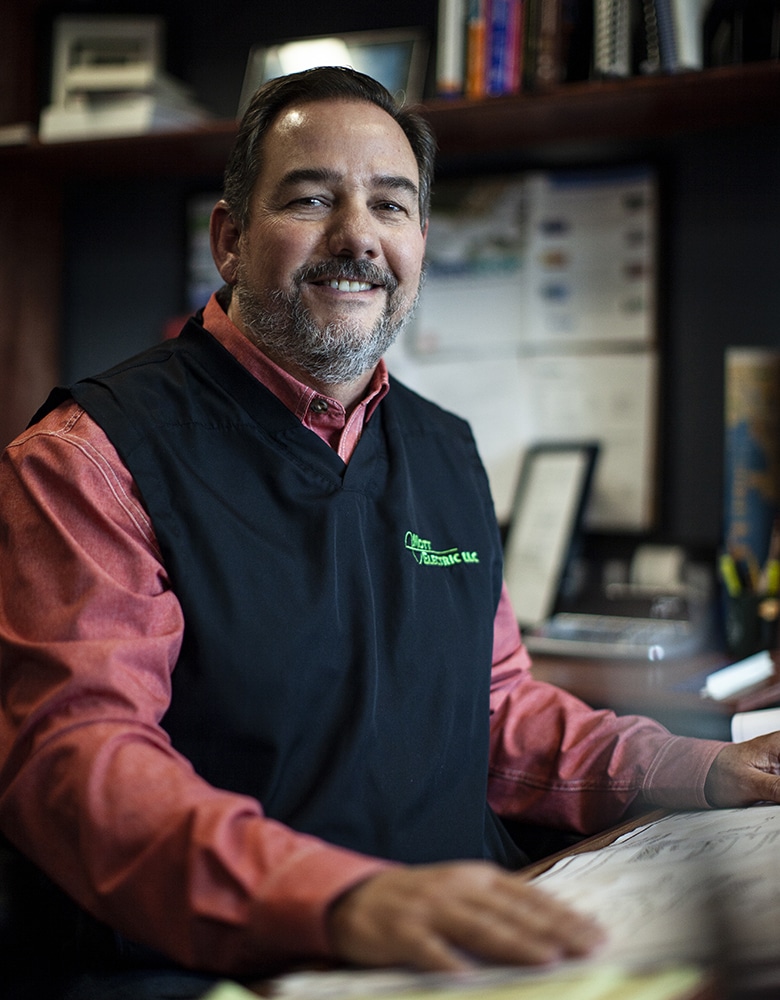 Robert founded Mott Electric in January of 1999 after working in the electrical services industry for 10 years. After graduating from college with an Associates Degree in Electrical Engineering Technology, Robert immediately went to work as an electrician. He completed his apprenticeship program and set out to learn all he could about his industry. Seeing a better way – that's what led Robert to start his own business. "I wanted to do more than just install and repair. I wanted to create value to the services offered in our industry."
"I'm most proud that my business has been able to provide a good home and good living for my family and the families of my employees. I'm very proud of my staff. Their dedication to the trade and the culture of excellence we've worked so hard to build is what has led to our success. A key to our success has been our dedication to building strong relationships and delivering tangible value to the clients we serve. We are so proud of the relationships we've built and our contributions to our community. Evidence of our success is visible all over our community. It's a great feeling to drive by a project we've done and say proudly, 'Hey, my team did that!'"
Kyle joined Mott Electric in 2006. He began as an electrician and project manager. Success in those roles led him to take on a role as Estimator. Today he oversees all estimation and project management for the organization. When Kyle began working for Mott Electric, he brought with him substantial knowledge of the river industry. His depth of knowledge of that unique industry is what has led Mott Electric to be a primary electric service provider to the river industry today.
"When I joined Mott Electric the question we answered a lot was 'who are you.'? Few people knew us or what we did. We took this as a challenge to prove ourselves and our capabilities. That dedication to delivering measurable value is what has allowed us to thrive. We don't have to answer that question as we once did. People know us and know our capabilities. People know what they get when they hire us. They trust us. We've earned that trust."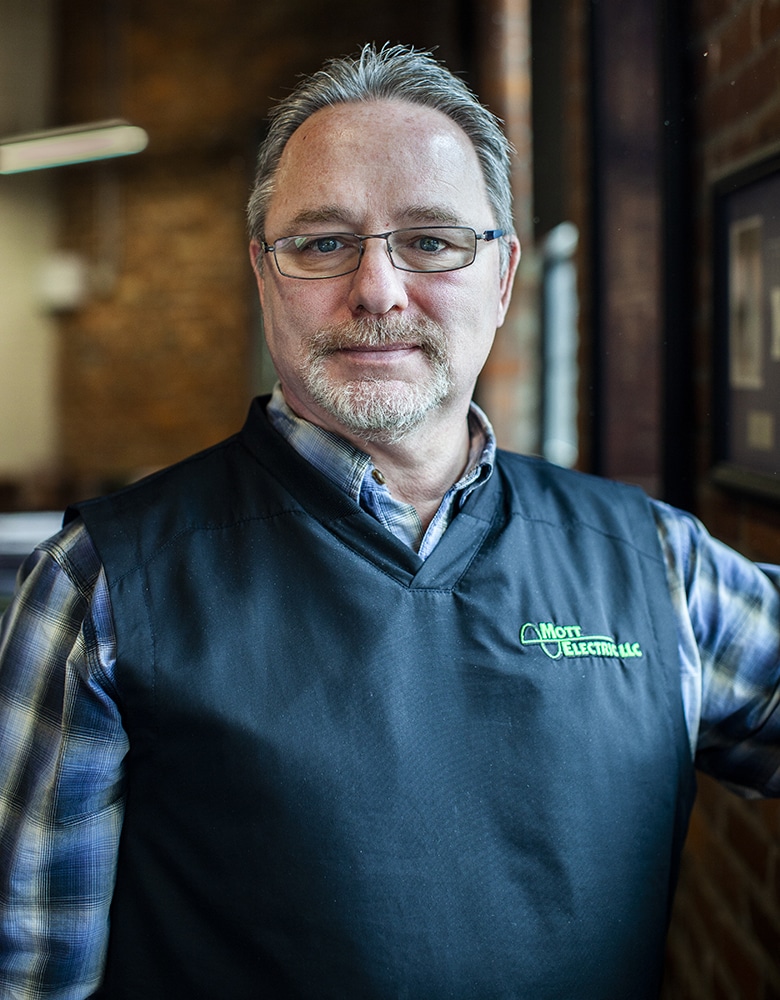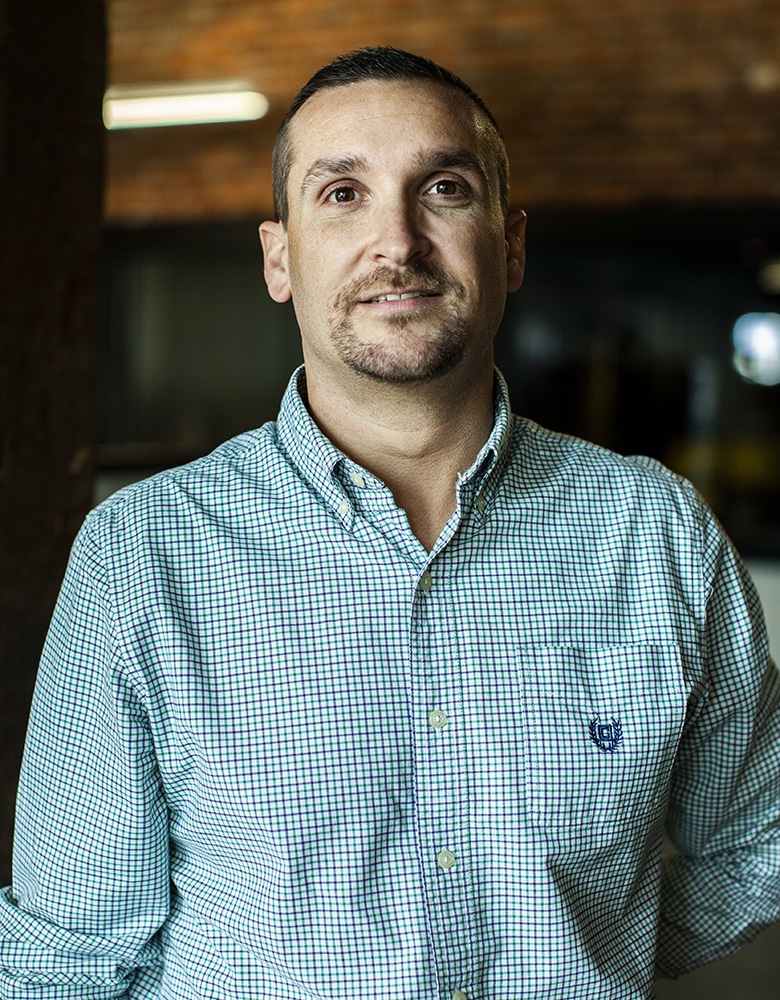 ADAM TERRY
Project Manager
Adam graduated from high school in spring of 2001 and started working at Mott Electric just a few months later. Adam's father was an electrician. He still remembers the advice his father gave him when he graduated from high school: "Figure out what you love to do. You don't have to be an electrician. Start somewhere, figure out what you like to do then do it." Adam had worked with his father from the age of 12 and decided since it was all he knew he'd start there. He found his industry! His career started at Mott as a beginner helper. Not long after he became an individual job foreman followed by Project Foreman. Today Adam is a Project Manager for nearly all of Mott Electric's contract work.
"When I started working at Mott Electric we were a small team of just four people. Our projects started out as small, residential projects. Today we manage large industrial multi-state projects. Robert worked hard to establish a solid business culture from the very beginning. Regardless of whether we were working for individuals and homeowners or large industrial projects, demonstrating integrity was a high priority. Our work has never been about the finished dollar, rather always about the end product and satisfied end user. Growth has not altered that integrity of workmanship. This has always been apparent from the top down, and it is something that has spread throughout the company. I never imagined I'd end up where I am today when I started here at age 18. Joining Mott Electric started as a fantastic opportunity that led to a lifelong career. The family atmosphere allowed me to grow up here. I'm looking forward to the next step of growth and leadership."
adam mott, PE
Project Engineer
Adam joined Mott Electric in 2022. After graduating from the University of Kentucky in 2014, he worked in Lexington as he pursued his Professional Engineering License. During this time Adam worked on design-build military projects, power system design, and power system studies including Arc Flash analysis. In his role as Project Engineer, Adam assists with project design analysis and troubleshooting on the electrical engineering portions of Mott Electric's project. He also assists with project bids.
"I always wanted to return home to Paducah and work for Mott Electric. Our team employs many talented professionals whose experience I am excited to learn from. It is exciting to solve problems, hands-on, with this team. I love seeing our work implemented in the field. I'm looking forward to expanding my knowledge of project management and completing successful projects for our clients which will, in turn, make me a better engineer."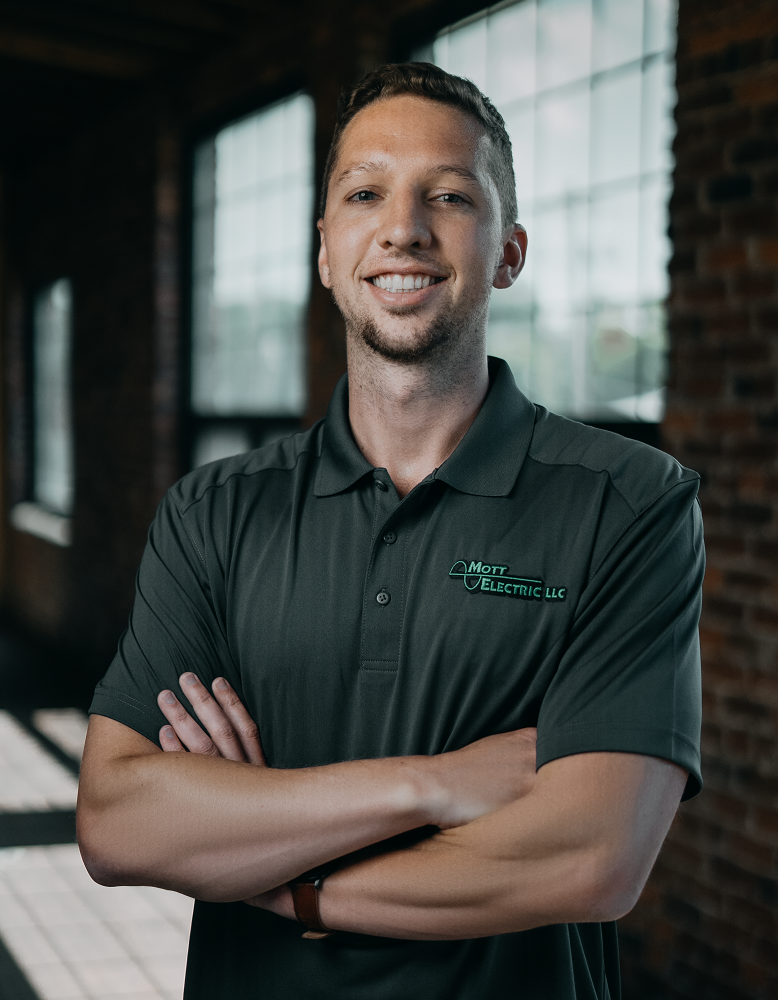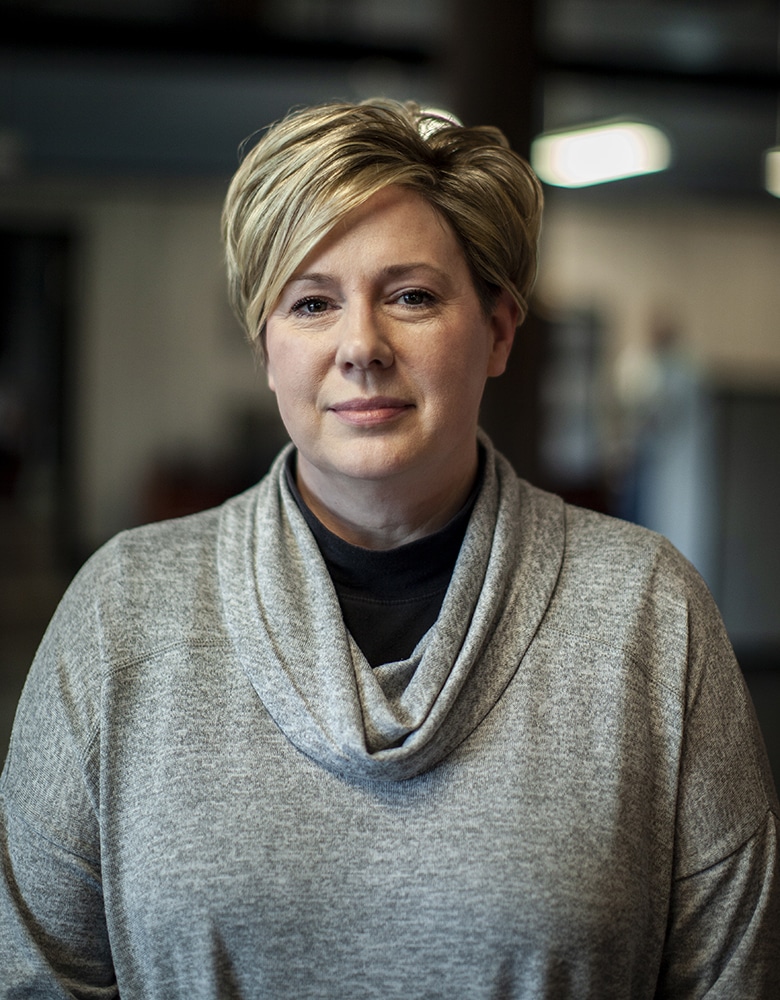 JOY LOFTON
Office Manager
Joy joined the team at Mott Electric in 2009 as the Office Manager. In her role, she is responsible for all accounting functions including payroll, accounts receivable, accounts payable and purchase orders.
"I love working at Mott Electric. We are empowered to own our positions and perform the work and make decisions that we know are in the best interest of the company.  As a team and individually, it's our belief that accountability cannot be delegated; therefore, results are expected and delivered. Our systems allow us to monitor activity in a way that keeps us on top of all projects regardless of how simple or complex they may be. We work very hard on behalf of our clients and on behalf of one another to ensure all projects are delivered on time, within budget and with minimal surprises."
Our industry moves fast. We cannot afford to stay still.
At Mott Electric, we are devoted to education, advancement, innovation and safety. We provide the resources, environment and incentives to ensure that our workforce is the best trained and most effective in the field. 
We are a proud member of the Independent Electrical Contractors. We provide our staff with access to the IEC Training Advantage program. This four-year apprentice curriculum teaches our electricians not only to perform the work, but why the work is necessary enabling them to be competent problem solvers and leaders among their peers. Advanced courses are provided to graduates of the apprentice program to ensure our staff is always learning and growing within our field of expertise.
LOCATION
632 S. 3rd St.
Paducah, Kentucky 42003
MAILING address
PO Box 322,
Paducah, KY  42002-0322
PHONE
(270) 744-8020
LICENSED IN KY & TN
_____
© 2019-2023 Mott Electric, LLC. All Right Reserved.